ABOUT THE REEDED EDGE:
Our Contact Information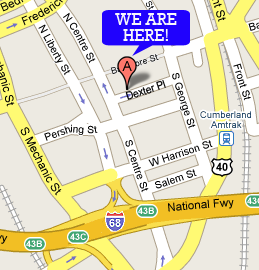 • The Reeded Edge, Inc.
113-115 Baltimore Street, Suite 102
Cumberland, MD 21502
• Office Hours: M-F 10AM - 6PM ET
Weekends: Please check our Show Schedule

• (301) 724-0400 PH
• (301) 876-1332 PH (Robbie Jenkins cell phone for all after-
hours correspondence)

• (301) 724-0478 FAX
• (301) 876-1332 or (240) 422-0118: Text Messages

• Email: mail@reedededge.com

• Customer Service: sales@reedededge.com
• Banking Information: Standard Bank, 200 North Mechanic Street,
Cumberland, MD 21502
Our Most Valuable Resource: Our People!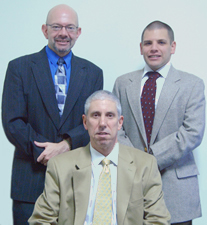 At The Reeded Edge, we believe there is more to running a rare coin and collectibles firm than simply selling a diverse product selection at competitive prices. Our people are our greatest resource, and they're what really sets us apart from our competitors.
Founded in 1990, The Reeded Edge, Inc. is one of the nation's leading dealers in world class rare coins and collectibles. We are also a recognized and respected member of our local business community and have attained an A+ rating from the Better Business Bureau. Our principals have been responsible for assembling many marquis coin collections including several of the finest certified silver dollar sets known. We've also built many everyday collections for ordinary folks, as well. It doesn't matter whether you're a collector in Alaska spending $200, or a Wall Street investor spending five figures, The Reeded Edge wants to be your rare coins and collectibles source.
We take great pride in building one on one relationships. We realize that each and every collector's needs are different. Go ahead and pick up the phone, send us a text or an e-mail. We really do want to hear from you! Generally speaking, there is always somebody here to answer your call or respond to your message, seven days a week. This hands-on approach has always separated us from the rest of the pack.

Our web store is the result of extensive buying, both at home and abroad. Represented are many thousand United States and World coins, bank notes and collectibles, all organized in an easy-to-read and user-friendly format. Best of all, you can shop in a secure environment, 24/7, right in the comfort of your office or home. Furthermore, keeping with our customer-first philosophy, all orders are processed quickly, and confirmations sent within 48 hours.

The Reeded Edge is not just a rare coin firm. Other items that we actively buy and sell include gold and silver bullion, tokens and exonumia, stamps, documents and autographs, Civil War memorabilia, rare watches, diamonds and fine jewelry, Presidential political memorabilia (with an emphasis on celluloid buttons), sterling silver flatware and accessories, antique tin and wind-up toys, advertising memorabilia, general Americana, English diecast toys (Corgi, Dinky and Matchbox) as well as many other areas of small collectibles. If you're buying or selling that special something, The Reeded Edge just might end up being your on-line coin and collectibles source.

Our Line-up

Robert Lehmann is the founder of the Reeded Edge. As president, he oversees all aspects of the company's business. Robert's credentials include a Business and Marketing degree from the University of Maryland. He is a LIFE MEMBER of the American Numismatic Association, a LIFE MEMBER of the prestigious National Silver Dollar Round Table, as well as a LIFE MEMBER of both F.U.N. and C.S.N.S. Robert is also a dealer representing Professional Coin Grading Service (PCGS) coins and Numismatic Guaranty Corporation (NGC) coins, as well as an authorized submission dealer for The American Numismatic Association Certification Service (ANACS). His accomplishments in the areas of numismatics are numerous, including assembling two of the world's finest early dollar sets and three world-class Morgan Silver Dollar sets. He has bought and sold over one hundred million dollars worth of rare coins spanning a 20+ year career in the numismatic hobby. Robert is a regular on the national coin show circuit, displaying at over 25 shows per year. He enjoys writing, and has contributed articles to various hobby publications including the Coin Dealer Newsletter.
Robbie Jenkins is a senior numismatist for the Reeded Edge. Robbie holds a BS degree in Economics and a BS degree in political science from Frostburg State University. He is a long-time collector of U.S. coins, paper money and exonumia with a broad knowledge in many areas of numismatics. Robbie served as the ANA Numismatic Intern from June, 2007 until August, 2007. His responsibilities with the ANA included working with the museum staff, organizing and cataloging portions of the ANA's collection, as well as researching and handling U.S. coins, ancient coins and paper money. Robbie also served as a library assistant for the ANA, helping members to locate appropriate reference material. He even assisted patrons in valuing their coins. Robbie is a member of the ANA, Florida United Numismatists, Western Maryland Coin Club and Early American Coppers. He is also a member of PCGS, NGC and CoinTalk online forums, where his user name is Shortgapbob. Robbie has earned numerous awards, both in and outside of the hobby in recognition of his outstanding leadership skills.

Ray Hunt is the Chief Information Officer for The Reeded Edge. Ray, who holds an Associate degree in Computer Science as well as a bachelor's degree in marketing, both from Frostburg State University, serves as the company's webmaster. Ray is familiar with all areas of the Reeded Edge's operations, and is especially well versed in all technical matters. Ray is also a guitarist for a popular local band, and enjoys both writing and recording his own music.

Tammy Lehmann is in charge of shipping and packaging. Tammy has worked in many facets of the corporation over the years. Her current responsibilities include customer correspondence, invoicing and shipping. The Reeded Edge sends as many as several hundred packages a week, thanks in a great part to Tammy's efforts.
Robby Lehmann is the newest member of The Reeded Edge's team. Robby is presently responsible for maintaining both The Reeded Edge's webstore and The Reeded Edge's eBay Store's inventory of vintage toys. Robby also attends Frostburg State University persuing an undergraduate degree in Political Science.

The Reeded Edge is also helped by several other part-time employees who work with the company on a "will-call" basis.