Robust VNA Show Jump Starts Fall Season
The Reeded Edge Heads to Greensboro, NC for the NCNA Coin Show
Sept. 30, 2014 - The coin shows lately have been somewhat challenging. Gold and silver have continued their downward spirals, freezing up many shop owners cash flow. Several of the larger rare coin firms seem to be top heavy in inventory, and the resulting coin market has remained sluggish. It has taken a delicate balancing act along with some fiscal discipline to stay flush in this market. This has been especially true since this summer's ANA show. So you can imagine how thrilled we were to see all of these trends reverse at last week's Virginia Numismatic Association annual show in Fredericksburg, VA.
Things started with a bang on Thursday when several prominent national dealers showed up with checkbooks open and in an aggressive buying posture. It was evident from their actions that despite market conditions, many dealers are starved for fresh coins. The trend continued once the public was admitted on Friday. We sold a number of significant collector coins along with an unusual amount of bullion. Buying was equally as active, with a mix of collector coins, high-end moderns and a good bit of bullion purchased as well. In all, The Reeded Edge transacted almost a quarter million dollars of business, a pleasant surprise when factoring market conditions along with the current trend of club shows. Perhaps we have reached that point where collectors and dealers have recognized the market trends and accepted slightly lower trading levels. We have always professed that the market level is not nearly as important as the fact that we have willing traders at that level, irrespective of whether it is higher or lower. Activity is key to the health of any market, coins included. If Fredericksburg was just a small indication of the market direction for the upcoming fall season, then we have much to be optimistic about.
This week, Rob and Robbie will be heading to Greensboro, NC for The North Carolina Numismatic Association's 56th Annual Coin Show. Held at the famous Greensboro Coliseum Complex in the heart of ACC country, we are expecting a similar size and turnout to last week's Fredericksburg show. As southern regional shows go, this is always one of the better ones. There is a strong contingent of both local dealers and collectors that attend this venue that we see at few other coin shows. It seems every year that we resurrect some old acquaintances in Carolina (as well as make some new ones), and we're hoping that this year will be no exception. Once in the actual expo hall, The Reeded Edge's tables are at the immediate front left of the room. Just look for our giant BUYING, BUYING, BUYING sign which should be visible from all vantage points on the bourse floor. With fresh coins back from both PCGS and CAC combined with dozens of new Fredericksburg purchases, we'll have no shortage of new material. We'll also have our nice, varied mix of certified and raw coins, currency, bullion and collectibles. From the beginning of set-up Thursday afternoon until the closing bell on Sunday, our goal is to stay busy. We will be aggressively buying all U.S. numismatic material, trades are always welcomed and any legitimate offer will be considered. If your travel plans bring you to Tobacco Road this weekend, please stop by the show, say hello to Rob and Robbie at The Reeded Edge's table, and perhaps, do some business.
It is no mystery that The Reeded Edge is VERY aggressive about buying and selling coins, even in this current environment. Whether you're buying rare coins, selling rare coins, buying or selling gold or silver, or perhaps in the market for vintage toys or collectibles, few rare coin and collectibles firms have a greater presence in the marketplace than The Reeded Edge. Our open checkbook policy means that we want to buy anything from a valuable single item to an entire estate or collection. No deal is EVER too large, and we try never to say no. As we have said many times before (and yes, you'll definitely hear it again), we want to be your rare coin dealer by earning your business the old fashioned way. Please feel free to call our offices during normal business hours @ 301-724-0400, Robbie's cell after-hours @ 301-876-1332 or Rob's cell after-hours @ 240-422-0118 to discuss any matter of business or just tell us how we're doing. And of course, stay tuned for more great coins, along with further details of upcoming coin shows.


(Featured Coins, Currency & Collectibles Added to Inventory Within the Last 30 Days - as of September 29th, 2014)
1793 Chain Cent, S-3, AMERICA, PCGS VF-20 - Moderately abraded on the obverse with a choice reverse, both the all-important date and chain are very strong. RARE and important coin, and the first example that we have had in several years.
1811 Large Cent, PCGS AU-58, CAC Approved - Wholesome and problem-free.
1831 Large Cent, NGC MS-62 BN - Lustrous brown with hints of original RED.
1858 Flying Eagle Cent, PCGS MS-64, CAC Approved - Original and lustrous.
1909-S VDB Lincoln Cent, PCGS MS-62 RB - unmolested mint state example from an original San Francisco hoard.
1866 Shield Nickel, Rays, PCGS MS-65 - Satiny with pronounced luster.
1866 Shield Nickel, PCGS PR-64, CAC Approved - Pretty gold overlays original proof surfaces.
1867 Shield Nickel, No Rays, PCGS PR-64 CAC Approved, PQ! - Pretty peripheral color.
1913-S Ty II Buffalo Nickel, PCGS MS-62, OGH - Soft luster with great originality; really new!
1915-D Buffalo Nickel, PCGS MS-64 - Very lustrous.
1917-D Buffalo Nickel, NGC MS-63 - Well struck, choice and original.
1927 Buffalo Nickel, PCGS MS-66, CAC Approved - Stunning coin with screaming luster and an icy blue patina.
1929-S Buffalo Nickel, PCGS MS-66 - Satiny luster with GEM surfaces.
1833 Capped Bust Half Dime, PCGS MS-66+, CAC Approved - One of the finest Capped Bust Half Dimes we have ever owned. Blast white with gold highlights and pristine surfaces.
1848 Half Dime, Large Date, PCGS AU-55, CAC Approved - Attractive with deep gold accents; RARE and underrated variety, especially in this grade.
1895 Barber Dime, PCGS MS-65, CAC Approved - Beautiful gold and blue rim toning w/ rich satiny luster.
1901-S Barber Dime, PCGS MS-63 - Satiny white example of this RARE date.
1936 Mercury Dime, PCGS PR-65, CAC Approved, PQ! - Gorgeous Fiery red obverse with original deep gold reverse. One of the prettiest 1936 Proof dimes that you will ever see!
1940-D Mercury Dime, PCGS MS-68 FB, CAC Approved - Perfect, original luster with hints of technocolor toning; As good as they get!
1821 Capped Bust Quarter, PCGS XF-45 - Original and problem-free; a lovely example.
1917 Standing Liberty Quarter, PCGS MS-66 FH - Original with satiny luster and pretty gold highlights.
1923 Standing Liberty Quarter, PCGS MS-65 FH - Rich, white luster with a very full strike, especially so for this tougher date.
1834 Capped Bust Half Dollar, Sm Date, Sm Letters, PCGS AU-58, CAC Approved - Wholesome original white with just a trace of high-point rub.
1892 Barber Half Dollar PCGS PR-67 CAM - Multicolor obverse toning and exquisite!
1894-S Barber Half Dollar, NGC MS-61 PL - Original white with a good cameo contrast with a great "look"; RARE in PL!
1940-S Walking Liberty Half Dollar, PCGS MS-66, CAC Approved - Blazing luster with incredible "pop".
1849 Liberty Seated Dollar, PCGS MS-62 - White, semi-PL and untoned.
1875-CC Trade Dollar, NGC MS-60 - Baggy and original; exactly what you expect in a MS-60 holder!
1876-CC Trade Dollar, PCGS AU-55 - Basically white and untoned, save for a small area on the reverse.
1886-O Morgan Dollar, PCGS MS-62+ - Satiny white, well struck and Redfield-type peripheral toning.
1887/6 Morgan Dollar, NGC MS-64 - White and flashy; one obverse bag mark away from a MS-65 grade.
1889-O Morgan Dollar, NGC MS-64 - White with good, original luster.
1890-CC Morgan Dollar, PCGS MS-63 DMPL, CAC Approved - Nice two tone contrast on this untoned specimen.
1891-CC Morgan Dollar, PCGS MS-62 DMPL - Watery surfaces with very deep mirrors.
1893 Morgan Dollar, ANACS MS-63, small white holder - Very fresh with some peripheral color and a great look.
1894 Morgan Dollar, NGC MS-61 - Soft white luster and well struck example of this key-date
1894-O Morgan Dollar, PCGS MS-64 - Outstanding luster with slight softness of strike on the high points.
1894-S Morgan Dollar, NGC MS-62 - White and well struck.
1897-O Morgan Dollar PCGS MS-63 - Satiny white with an absence of major contact marks.
1903 Morgan Dollar, PCGS MS-66, PQ! - Remarkably clean and free of any surface abrasions with thick, rich luster.
1892 $2.50 Liberty Gold, NGC MS-60 - Mark free with decent luster; conservatively graded better date.
1808 $5.00 Capped Bust Gold (Left), PCGS AU-55 - Satiny original luster with deeper highlights; Fresh!
1892 $5.00 Liberty Gold, NGC MS-63 - Flashy example of this slightly better date. Greysheet Quarterly BID = $950.
1912-S $10.00 Indian Gold, PCGS AU-53 - Nice luster with smooth surfaces.
1913-S $5.00 Indian Gold, PCGS MS-61 - An original Euro example of this scarce date with none of the usual high point rub.
1907 $10.00 Indian Gold, PCGS MS-65 - A blazing jewel!
1865-S $20.00 Liberty Gold, PCGS AU-50 - Not heavily abraded with good amounts of original skin remaining.
1877-CC $20.00 Liberty Gold, PCGS XF-40, CAC Approved, OGH, PQ! - An original high-end coin that would easily grade AU-50 by today's standards.
1892 $20.00 Liberty Gold, PCGS AU-55 - Pleasing coin with even gold surfaces and a nice look. Very RARE post-1890 date, surpassed only by the 1891.
1905 $20.00 Liberty Gold, NGC MS-61 - Fairly smooth and unspotted surfaces on this better date $20.00.
1906-D $20.00 Liberty Gold, PCGS MS-64 - Unspotted with a patina on the obverse and a basically untoned lustrous reverse; Better date.
1925 $20.00 Saint Gaudens Gold, PCGS MS-66 - Outstanding luster on this slightly better date MS-66 Saint.
1864 CWT, General McPherson, F-113/537a, NGC MS-64 RD - Fresh back from NGC, mellow RED and original; one of the rarest of all Patriotic CWT.
1830's Baltimore, MD, $20.00 Susquehanna Bridge and Bank Company, PMG Superb GEM Unc-67 EPQ "Proof"- a remarkable R-7 Maryland obsolete; unimprovable!

Stolen Coin From the Baltimore Coin Show
Sept. 9, 2014 - The Reeded Edge had a 1927-S Buffalo Nickel, PCGS MS-64, #3962.64/30179690 stolen at July 8th's Whitman Baltimore Coin Show. The coin is a golden white with nice luster and relatively clean surfaces. Originally purchased out of the Heritage June Long Beach auction, this piece is well archived, complete with high resolution photographs. It has a few very distinctive markings, and would be easy to identify in or out of its original holder. A "no questions asked" reward is being offered for its return. Any help from our customers or fellow dealers in recovering this coin is greatly appreciated.


Chicago ANA Extremely Active - Record Number of Invoices Written Over a 10 Day Period

August 12, 2014 - We expected an active week of trading when we left for Chicago nearly two weeks ago. After all, this was The ANA's World's Fair of Money, or in coin show terms, The Big Kahuna. Both preparations and expectations were accelerated for this venue. It is not every show that our bourse area stretched over six tables and was staffed by four people. But then, the ANA was not every show.
From the moment we arrived in the Chicago suburb of Rosemont on Thursday, July 31st, it was evident that the mood of our fellow dealers was both optimistic and upbeat. The summer doldrums were gone as brisk trading ensued. Rob, Robbie and Miguel were slammed from the onset of the PNG pre-show straight through the last day of the main event. Were it not for the additional help of our friend and close associate Arnold Minimen, some of our customers would have gone unattended; It really was that busy! There was absolutely no rest for The Reeded Edge's guys; Between working up new purchases, processing orders, shipping coins and waiting on customers, 12+ hour days were the norm rather than the exception.
Needless to say, after 10 solid days of buying and selling rare coins and collectibles, our inventory has gone through a dramatic shift. Many coins that were featured on our web store, Collector's Corner and eBay were sold, replaced by a new and exciting crop of collector coins. In all, The Reeded Edge did nearly a million dollars of total business. Consequently, you can expect to see many new coins appearing on the store throughout this week.
As for Rob and Robbie, they are going to enjoy a well-needed break with the upcoming weekend spent on the home front. Then, it will be back to the road for a host of late-summer and fall shows. One of the many things that we will be addressing in the next week will be an updated show schedule, so stay tuned.
Finally, we would like to extend a great big thank you to all of our customers and fellow dealers that made this 2014 ANA venue such a success. We were humbled by all of the support and kind words that we received throughout the week. Although this aspect can not be measured in shear numbers, it nonetheless keeps us going and it's what makes this business so worthwhile.
Approval Service Available to Reeded Edge Customers


April 7, 2014 - As you peruse our webstore, you may notice ON HOLD next to the listing of a particular coin. This, amongst other things, could indicate that the coin is out ON APPROVAL to one of our customers. This allows the customer to examine the coin before making payment. For our well established clients, approvals are a preferred way of conducting business. For those not familiar with an approval service, here is how it works: The first step is to build a business relationship with us or any other recognized rare coin firm. If your previous business is with other firms, we ask you to provide three different credit references of dealers that have extended you credit in the immediate past. If your business is in-house, we will evaluate the nature, frequency and dollar amount of your business, and make a credit decision accordingly. Once established, you may use this privilege indefinitely. This gives you the ability to get the coin in-hand, examine it in the privacy of your own home and/or office for 24 hours, and then make your buying decision. This is a great option, and one that MANY of our regular customers take advantage of. Please also note, our approval service is not just for coins. It extends to any item on the webstore with a retail value of $1000.00 or more, including currency, vintage toys, political items, documents & autographs, exonumia and stamps. Please call our offices @ 301-724-0400, Rob on his cell @ 240-422-0118 or Robbie on his cell @ 301-876-1332 to discuss this service further.
Selling your Coins Online
Selling coins online has been a hot topic lately. There are many coin dealers in cyberspace, various regional phone books, and perhaps even in your home town. So, who do you choose when you have rare coins for sale? This is a complex question with no easy answer, but there are some rules that you absolutely should employ when making this important decision. Perhaps most importantly, who is your prospective dealer and what is his/her credentials? Trade associations, full transparency and strong financial references are all important criteria when making this decision. Look for membership in organizations like the American Numismatic Association (ANA) and the Industry Council for Tangible Assets (ICTA) to name two of the more important trade groups. Everybody who is anybody in the coin business (or any other business for that matter) has a strong web presence in today's day and age. Look for a well developed webstore with an extensive inventory and longevity. All are very important indicators of financial strength and stability. Go to the store's About Me page, and look for additional information on the company and their principals. If this information is hidden or cryptic, you have to ask yourself why. Finally arm yourself with resources. Although there is a LOT of great information online, getting it in a consolidated and concise, usable format can prove very challenging. Here is where a couple of great, time-tested books can be invaluable to you. The Guide Book of United States Coins, or Redbook has been the hobby's standard retail pricing guide since 1947. It is used today as much as ever by collectors around the world. But perhaps your most important single aid in helping you sell your coins for true wholesale prices is The Handbook of United States Coins or Bluebook. Neither of these publications will appear free on a Google search, although both offer online versions for sale.
Whether you are selling gold, silver, rare coins or any other collectible online, you owe it to yourself to do your due diligence. Rare coin dealers are not all the same. Applying some fundamental rules and good common sense to your selling decision can make the experience both pleasant and profitable. Why would you want it any other way?


The Year in Coins - A Personal Perspective
By Rob Lehmann


December 26, 2013 - In retrospect, this has been an interesting year for the rare coin market. Metals, which dominated the conversation in 2012, were for the most part bearish this year. The additional play money created by gains realized in gold and silver was largely a non-factor in 2013. But despite this, the coin market overall, had a good year. This might have been due to the perceived improvement in the economy, the stabilization of the dollar and gains made in a rapidly rising stock market. Additionally, when feel-good areas like housing starts and retirement savings are on the rise, there is a certain confidence about diversifying some income into hobbies and alternative investments.
Two words that could characterize this year's coin market are healthy and selective, with rising prices in some areas and stabile prices in most others. In general, series that might pique a collector's interest, such as U.S. Type Coins, scarce and rare date gold and key-dates performed quite well. Conversely, generic coins, such as common-date Morgan and Peace Dollars, stagnated. Caveats evident were price sensitivity and the importance of quality. A coin that was perceived as 10% too expensive could sit for months in a dealer's inventory whereas a similar counterpart priced at the market levels would generally find an instant home.
Liquidity factors also pertained to quality. Numismatic auctions provided a good example of this. In many instances, two of the same coin, in the same grade, certified by an identical grading service, would appear simultaneously in a specific sale. Using an example of two 1884-S Morgan Dollars, both of which were graded AU-58 by PCGS, the first, an average quality piece, or acceptable for the grade, sold for $1250.00; the second, which was viewed by potential buyers as high-end, or premium quality for the assigned grade, sold for $3000.00. Although this comparison might seem extreme, similar scenarios played themselves out at virtually every coin auction. This mind-set also spilled over to the bourse floors of coin shows, where similar transactions occurred via private treaty. The rule of thumb seemed to be, if you had a nice coin, everybody wanted it. Understanding this, and how to make the distinction between ordinary and exceptional, was integral to succeeding in a numismatic marketplace that could prove otherwise challenging. But for those in the hobby that got it, 2013 offered numerous opportunities to prosper. Given the market's current momentum and direction, there is no sign that any of these driving forces should change in the upcoming year.
The Reeded Edge Launches our 3rd Annual Toys for Kids Day with The Salvation Army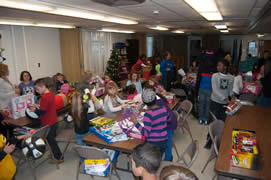 December 23, 2013 - This has been a successful year for our company. All of the hard work, both here in the office and on the road, paid dividends with record sales figures. But, it is sometimes easy to get caught up in these personal successes, and forget that there are many amongst us that are far less fortunate. The holidays provide us with the opportunity to give a little something back. The Reeded Edge, once again this year, teamed up with The Salvation Army to sponsor our annual Christmas toy drive. December 12th's event allowed us to play Santa, handing out wrapped toys to over 40 local grade-school children. The looks on their faces said it all! Perhaps, some of you reading this will be able to help somebody less fortunate this holiday season, as well; from our standpoint, there is no greater reward.


Merry Christmas and Happy New Year to all!
Longevity


July 5th, 2013 - Yesterday, I was pondering the fact that our country turned 237 years old. The United States is the oldest westernized democracy in modern history. We are an enigma in many ways, but perhaps the most poignant thing that resonated with me was the fact that we are getting stronger with age. In our younger years, we were constantly challenged. Through history we have had to continue to fight and defend our position, proving time and time again that we were worthy of our status in the world pecking order.
Thirty six years ago, I conceived the idea of The Reeded Edge. We were going to be a coin dealer that catered to servicing local customers through trade shows one or two weekends per month. It didn't take long for me to figure out that with hard work and persistence, that there just might be a career potential with this business. But figuring something out and actually taking action are two different matters entirely. It took me another 12 years to make the commitment, and take The Reeded Edge into a full time venture. Since then, we too have had our challenges. But despite them (or perhaps, because of them), we have emerged stronger and better to become the company that you know today. To a great extent, the addition of Ray Hunt 12 years ago and Robbie Jenkins 7 years ago, have allowed for that growth. By taking us to the next step, from a technological and numismatic standpoint, we are now able to do things and service our customers in a way that we could not have done in our early years. Like our great nation, I would like to believe that we are on an upward path, solidifying our position in the numismatic arena.
July 4th made me realize that we as a nation have much to be thankful for, and we are lucky in so many ways. My business is no different. In fact, any organization is only as good as the sum total of its parts, and those parts are their people. I like to believe that I remind Ray and Robbie how important they are to our operation on a regular basis. You, our customers, comprise the other part of this group, and I want to take this opportunity to thank each and every one of you for your loyalty, support and patronage. Without you, we could not be where we are today, a fact I never forget or take lightly.
To all, a Happy Fourth of July holiday and thank you from the bottom of my heart!
Rob Lehmann
President,
The Reeded Edge, Inc.