The Reeded Edge Heads to Marietta, OH for The Parkersburg Coin Show
March 3, 2014 - Parkersburg, WV is a sleepy little border town on the Ohio River. Much like our home town of Cumberland, Parkersburg's livelihood was based on mining and manufacturing, most of which is now history. West Virginians are a proud and loyal bunch, who love their state and cherish their roots. Tradition runs deep in this area, something that we sense every time that we set up at The Parkersburg Coin Club Show. This is precisely why this has been, is, and probably will continue to be, a very successful venue. Simply stated, the Parkersburg area collectors simply won't let this show die! There probably is not a small show in the country that we enjoy doing more than this one; the people are friendly, the country is beautiful, and the mood of the show is always upbeat and active. What's not to like? Located at The Comfort Inn, 700 Pike Street in Marietta, Ohio, the show is on the Ohio side of the river, just a stone's throw from downtown Parkersburg. The Reeded Edge will have its usual large double table set-up on the back aisle of the bourse hall. Both Rob and Robbie will be in attendance. Just look for their giant BUYING BUYING BUYING sign, prominently visible from virtually any vantage point in the main hall. The guys will have hundreds of new certified coins with them, as well as raw coins, currency, gold and silver bullion and general collectibles. Equally as important, The Reeded Edge is more aggressive than ever about buying coins. Just bring what you have for sale by their table for their on-the-spot offer. As usual, The Reeded Edge will have an open checkbook policy, and YES, cash is always available. There is a good reason that The Reeded Edge have become the go-to coin dealers at these smaller venues, like Parkersburg. Whether you're buying coins, selling coins, buying gold, selling gold or conducting any other type of numismatically related business, Rob and Robbie will be the guys to see. We sincerely hope that Parkersburg is in your plans for this weekend, as we would love to see you at the show.
The last several months has been somewhat trying on the coin business, as it has on all business in general. Although we could argue that our business has been more resilient than many, Mother Nature still had her effect. The inclement weather, especially the snow and ice that covered much of the country, kept dealers out of their offices and shops. This was especially evident with online coin dealers on the electronic trading networks, such as Certified Coin Exchange. This upcoming weekend is going to be more of the same weather-wise, but soon, the worst will be behind us. Gold and silver have certainly been cooperating, so with a little better weather, the coin business should really boom. We all could use that seasonal shot-in-the-arm.
Our need to buy U.S. collector coins is ongoing. We will be aggressively buying all better United States coins in Parkersburg, at all future upcoming shows and back here in our home office. There are few online coin dealers more aggressive than we are. So, whether you have one coin or an entire collection, please make a point of offering your items to Rob or Robbie for their top-dollar offer. Please either call our offices @ 301-724-0400, Robbie on his cell @ 301-876-1332 or Rob on his cell @ 301-724-0400. We want to hear from you!

February - Weather is Cold, but Coin Market Heating Up!
February 5, 2014 - The coin market is showing signs of seasonal improvement. As active coin buyers, we measure activity by the folks calling us who are either buying or selling gold and silver coins, as well as the activity of our fellow coin dealers on the major coin trading networks. Both the demand for buying silver and gold, both in pure bullion and numismatic form, seems to be on the uptick. Perhaps, some of this is a result of the stock market correction in the last week. But more likely, it is just a by-product of the cyclical upturn that generally starts in February and continues through May. Another measure of activity comes from within. Our webmaster is constantly monitoring what search terms are being used by customers steered to our webstore. He has noticed more frequency in search terms such as buy silver coins online and buy gold coins online. The frequency of hits on our webstore is one indicator of activity, but equally as important is the content of the search terms. When somebody types buy rare gold coins for instance, there is a clear and distinct purpose for that search. Finally, coin show activity fills in the last piece of the puzzle. Certainly after this week's St. Louis and Alexandria Coin Shows, we will have a much better feel for that benchmark. But, if last week's Long Beach show is any preliminary indication, the traffic at coin shows is also on the rise.
Coin dealers like ourselves always have to be on the lookout for market indicators, for better or worse. So far, what we're observing is totally in line with what we expect for this time of year. Combine that with a healthy and active coin market, and we believe that the upcoming months should be just fine. We will keep you updated!
(Featured Coins, Currency & Collectibles Added to Inventory Within the Last 10 Days - EVERY COIN NEW as of March 3, 2014)
FUN ROCKS!


January 14, 2014 - Where do we start with FUN? The show exceeded all expectations and was great in so many ways. We arrived in Orlando last Monday, two days before the actual start of the show to conduct pre-show, wholesale trading. Over the course of two days, we traded coins with six of our major "go-to" dealers to the tune of almost $200,000 of collective business. Although we couldn't get a precise read on the bourse to follow, we certainly entered the actual show with a sense of optimism. It didn't take long on Wednesday to figure out that we were picking up exactly where the pre-show business left off. With the addition of 1,500 new potential trading partners entering the Orange County Convention Center, The Reeded Edge continued our wholesale business, albeit to a much bigger audience. Everybody from part-time vest pocket dealers to prominent rare coin firm representatives showed up at our booth wanting first shot, at what was initially, a very fresh inventory. Our hard work spent buying throughout December paid off in spades. By the time that the retail public was admitted on Thursday morning, The Reeded Edge had conducted enough business that we could have gone home and called it a day. But, that was the farthest thing from our plans. We continued selling coins at a frenzied pace until the closing bell on Sunday afternoon. In all, we did almost $600,000.00 of combined business for the show, placing this FUN as one of our top coin shows ever.
There was no one area that dominated activity at FUN. Quite the opposite, we found virtually every area of the market active, albeit the more common coins were very price sensitive. Better coins and rare items were hot commodities with multiple buyers for each. We did notice a particularly strong interest in premium quality, fresh material as well as CAC approved coins. Currency was also hot, with the several nice deals purchased at the show, finding immediate new homes. Fresh type coins priced under $2000.00 and dated gold up to $10000.00 also had active audiences with both being requested on an hourly basis. As usual, FUN did an outstanding job combining a record-size dealer contingent, thousands of collectors and an auction approaching nine figures into a single venue. Aside from the summer ANA, FUN proved once again, why in the numismatic community, it truly is the show of all shows!
Below, you will find many FUN new purchases listed, with more emerging throughout the week. In all, we acquired over 200 new certified coins ranging in price from several hundred dollars well into five figures. All areas of United States numismatics are represented with a particular emphasis on type coins, better-date Morgan Dollars, CAC Approved coins and dated gold. There should be something for every taste and budget, and again, new material will be going up daily. This month marks the real start to our winter show schedule, so expect to see a lot of new coins, currency and collectibles coming and going on the webstore.
This week, The Reeded Edge will be back on the road, this time we're heading to Wilmington, Delaware for The Wilmington Coin Show. Show hours are Thursday, January 16th from 11:00 AM - 6:00 PM, Friday, January 17th from 10:00 AM - 6:00 PM and Saturday, January 18th from 10:00 AM - 5:00 PM. The show will be held at it's usual location, NUR Shrine Temple, 198 South Dupont Highway, New Castle, DE. The Wilmington show is comprised of an eclectic mix of national, regional, local and part-time dealers. There is a strong and loyal contingent of collectors at all levels that attend with regularity. Both Rob and Robbie will be on-hand for The Reeded Edge, so please stop by their table in the very front of the hall and say hello. Although, each Wilmington show tends to be successful for a different reason, the fact is that we always can find a way to make this show work; there are not too many venues where we can make that type of blanket statement.
The Year in Coins - A Personal Perspective
By Rob Lehmann


December 26, 2013 - In retrospect, this has been an interesting year for the rare coin market. Metals, which dominated the conversation in 2012, were for the most part bearish this year. The additional play money created by gains realized in gold and silver was largely a non-factor in 2013. But despite this, the coin market overall, had a good year. This might have been due to the perceived improvement in the economy, the stabilization of the dollar and gains made in a rapidly rising stock market. Additionally, when feel-good areas like housing starts and retirement savings are on the rise, there is a certain confidence about diversifying some income into hobbies and alternative investments.
Two words that could characterize this year's coin market are healthy and selective, with rising prices in some areas and stabile prices in most others. In general, series that might pique a collector's interest, such as U.S. Type Coins, scarce and rare date gold and key-dates performed quite well. Conversely, generic coins, such as common-date Morgan and Peace Dollars, stagnated. Caveats evident were price sensitivity and the importance of quality. A coin that was perceived as 10% too expensive could sit for months in a dealer's inventory whereas a similar counterpart priced at the market levels would generally find an instant home.
Liquidity factors also pertained to quality. Numismatic auctions provided a good example of this. In many instances, two of the same coin, in the same grade, certified by an identical grading service, would appear simultaneously in a specific sale. Using an example of two 1884-S Morgan Dollars, both of which were graded AU-58 by PCGS, the first, an average quality piece, or acceptable for the grade, sold for $1250.00; the second, which was viewed by potential buyers as high-end, or premium quality for the assigned grade, sold for $3000.00. Although this comparison might seem extreme, similar scenarios played themselves out at virtually every coin auction. This mind-set also spilled over to the bourse floors of coin shows, where similar transactions occurred via private treaty. The rule of thumb seemed to be, if you had a nice coin, everybody wanted it. Understanding this, and how to make the distinction between ordinary and exceptional, was integral to succeeding in a numismatic marketplace that could prove otherwise challenging. But for those in the hobby that got it, 2013 offered numerous opportunities to prosper. Given the market's current momentum and direction, there is no sign that any of these driving forces should change in the upcoming year.
The Reeded Edge Launches our 3rd Annual Toys for Kids Day with The Salvation Army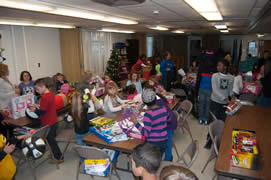 December 23, 2013 - This has been a successful year for our company. All of the hard work, both here in the office and on the road, paid dividends with record sales figures. But, it is sometimes easy to get caught up in these personal successes, and forget that there are many amongst us that are far less fortunate. The holidays provide us with the opportunity to give a little something back. The Reeded Edge, once again this year, teamed up with The Salvation Army to sponsor our annual Christmas toy drive. December 12th's event allowed us to play Santa, handing out wrapped toys to over 40 local grade-school children. The looks on their faces said it all! Perhaps, some of you reading this will be able to help somebody less fortunate this holiday season, as well; from our standpoint, there is no greater reward.


Merry Christmas and Happy New Year to all!
Longevity


July 5th, 2013 - Yesterday, I was pondering the fact that our country turned 237 years old. The United States is the oldest westernized democracy in modern history. We are an enigma in many ways, but perhaps the most poignant thing that resonated with me was the fact that we are getting stronger with age. In our younger years, we were constantly challenged. Through history we have had to continue to fight and defend our position, proving time and time again that we were worthy of our status in the world pecking order.
Thirty six years ago, I conceived the idea of The Reeded Edge. We were going to be a coin dealer that catered to servicing local customers through trade shows one or two weekends per month. It didn't take long for me to figure out that with hard work and persistence, that there just might be a career potential with this business. But figuring something out and actually taking action are two different matters entirely. It took me another 12 years to make the commitment, and take The Reeded Edge into a full time venture. Since then, we too have had our challenges. But despite them (or perhaps, because of them), we have emerged stronger and better to become the company that you know today. To a great extent, the addition of Ray Hunt 12 years ago and Robbie Jenkins 7 years ago, have allowed for that growth. By taking us to the next step, from a technological and numismatic standpoint, we are now able to do things and service our customers in a way that we could not have done in our early years. Like our great nation, I would like to believe that we are on an upward path, solidifying our position in the numismatic arena.
July 4th made me realize that we as a nation have much to be thankful for, and we are lucky in so many ways. My business is no different. In fact, any organization is only as good as the sum total of its parts, and those parts are their people. I like to believe that I remind Ray and Robbie how important they are to our operation on a regular basis. You, our customers, comprise the other part of this group, and I want to take this opportunity to thank each and every one of you for your loyalty, support and patronage. Without you, we could not be where we are today, a fact I never forget or take lightly.
To all, a Happy Fourth of July holiday and thank you from the bottom of my heart!
Rob Lehmann
President,
The Reeded Edge, Inc.