The Reeded Edge Heads to Northern Virginia - Annandale Coin Show is our Final Show of 2013


December 10, 2013 - Can you believe that it is a mere 2 weeks until Christmas? It is amazing how quickly this year went by, and what a year it has been! The Reeded Edge is looking to close 2013 out in style this weekend as we head to Northern Virginia for The Annandale Coin Show. For those of you that have never been, this is a great little show with a nice mix of dealers and a very active bourse floor. Coming on the heels of a healthy Houston Money Show, our take of the market remains positive. We think that Annandale will prove to be just as robust as Houston, albeit on a smaller scale. Both Rob Lehmann and Robbie Jenkins will be on hand for The Reeded Edge at their usual location in the central area of the bourse floor. With The Reeded Edge's BUYING, BUYING, BUYING mega-sign prominently located at our table, we should be hard to miss! The guys will have an unusually large selection of coins and currency including Houston new purchases, as well as coins recently back from both PCGS and CAC. Even though we are close to the year's end (a time when many dealers are trying to reduce their inventories), you will find The Reeded Edge with their usual open checkbook policy and in an aggressive buying mode. Hence, if you have any nice items that you wish to sell, please be sure to offer them to Rob and Robbie. As always, cash will also be available, just in case that is a consideration. We certainly hope that Northern Virginia is in your plans, as this is our last show of 2013. If it is, please be sure to stop by The Reeded Edge's table and say hello; we would love to see you at the show!


(Featured Coins, Currency & Collectibles Added to Inventory Within the Last 30 Days - Last Updated December 10th, 2013)
Baltimore, Once Again, Sets the Standard for Fall Coin Shows!
November 12, 2013 - What more can we say without sounding like a broken record? The Baltimore coin show, is flat-out, GREAT! This last weekend's affair at The Baltimore Exposition Center was no exception. This show has established itself as one of the preeminent coin shows in the entire country. We had huge expectations for this venue, especially considering the thriving state of the rare coin market. We are happy to report that, once again, Baltimore exceeded all expectations. We had our single best show since the summer ANA. With no other coin shows on the calendar until after Thanksgiving, that's a good thing. Of the three seasonal Whitman expos, the fall venue continues to be our favorite, especially after the robust performance of this last weekend's venue.
Both Rob and Robbie were on hand in Baltimore through Saturday. After two days of wholesale trading and three days of an active bourse, the guys returned to the home office thoroughly exhausted. There are not too many venues that warrant a full five days of travel, but Baltimore is definitely one of them. The Reeded Edge's table was a center of activity for the entire bourse. As one dealer accurately noted, "I tried to get to your table on three different occasions to show you coins, and you always had people lined up two deep." With over half a million dollars of transacted business, The Whitman Baltimore Coin Exposition was not only our top show of the season but also one of our very best for the entire year. Given the overall aggressive nature of coin shows this year, that is really saying something!


Understanding Key-Date Coins
By Miguel Lopez


October 15, 2013 – What exactly are key-dates? In short, these are the scarce coins needed to complete sets, the ones that we know and love. If you have been around this hobby for a while, you don't need many details to identify these coins. Many are identified simply by their dates: 1916-D, 1893-S, 1909-S VDB, etc. Even devoid of denomination, we know exactly which coins we're referring to without any further elaboration. To draw a parallel, these are the numismatic billboards of mainstream collecting. But are these readily-identifiable coins truly the key-dates in their respective series, or are there other potential candidates vying for this title lurking in the shadows? This is certainly a topic worth exploring.

For the collector of Barber Quarters, a walk around a bourse floor at a major coin show would reveal far more 1896-S, 1901-S and 1913-S examples in dealer cases than either 1898-S or 1909-O dated coins. With sub-100,000 mintages, the 1901-S and 1913-S are instantly recognizable as key-dates. But as most knowledgeable collectors realize, mintages are but one factor in determining key-dates. Perhaps the most important determining factor (and hardest to evaluate) is survival rate. In the above example, although both the 1898-S and 1909-O quarters have significantly higher mintages than the 1913-S, they can be every bit as tough to locate, especially in high-grade. It appears that few of each were saved, and both of these dates were largely ignored by collectors for a number of years. The advent of third party grading has revealed their true scarcity, and with updated data, given each a newfound respect. So, are we implying that there is now a new subset of key-dates? Although a provocative thought, the answer is probably not so fast.

What we are experiencing is a new generation of key-date coins, not necessarily replacing the established keys, but adding to them. By definition, these newly-heralded keys are legitimately scarce, but have not always been regarded as such. They are coins that can trade at multiples of Greysheet (Coin Dealer Newsletter) wholesale prices, and create opportunities for savvy dealers and collectors who keep up with the markets and have figured this trend out.

In the same breath, there is a market saturation of certain traditional key-dates. This is why we see an abundance of 1932-D &1932-S quarters, 1938-D Walking Liberty Half Dollars and 1921 & 1928 Peace Dollars in the numismatic marketplace, just to name a few. Accordingly, these keys are simply not bringing the strong premiums that they once brought, whereas the new generation of keys is realizing higher prices than ever. At some time, the market will catch up with both of these groups and create a pricing equilibrium that is presently absent.

In conclusion, any discussion of key-dates is not complete without the inclusion of the new generation of key-date coins. We need to recognize this sub-set of coins and the importance of its inclusion to our traditional baseline group. To do otherwise, would be leaving both opportunity and money on the table.
ANA Phenomenal!
Show Exceeds ALL Expectations


August 20, 2013 - Where can we begin with last week's ANA show? All the anticipation and build-up leading to this event panned out, and then some. The Reeded Edge arrived in the Chicago area on Wednesday, August 7th, three days before the official pre-show began and a full 6 days before the opening bell for The World's Fair of Money (the main event). By the conclusion of our "by appointment only" wholesale trading on Friday, August 9th, we had almost exceeded our 2012 ANA figures for our entire trip! To state that dealers were aggressive would be a gross understatement. They were starved for fresh coins, and for those willing to trade within market established pricing parameters, there was no end to the potential business one could do. The pre-show was equally as impressive as the dealers need for coins became almost frenzied. We should step back for a moment and qualify this statement. The ANA sponsored pre-show took place in the same room as the main show the following week. Since there were less than 100 dealers occupying space designed for 1000, there was an initial vacant feeling to the bourse. The caveat was that, almost without exception, each and every table in the room had activity. One dealer made the astute observation, "The only sounds in the room were coins shuffling in stock boxes and invoices being torn apart." The big show was more of the same with the addition of the general public. Thousands of collectors, full and part-time dealers converged on the Donald E. Stephens Convention Center for a week's worth of numismatic nirvana. Trading was brisk, sales strong and the public was enthusiastic at all levels. If you had nice coins priced fairly, they sold. Anything worthwhile that entered the room was bought up equally as fast. In all, this was one great coin show with two-way business transacted for the entirety. We heard some dealers complain of a lack of fresh material and others about an unenthusiastic public. We found neither to be true. Rob might have summed it up best when he said, "The only way that you had a bad show was if you sat on your hands for a week. There was unlimited opportunity in that room, and if someone failed to tap it, shame on them."
Longevity


July 5th, 2013 - Yesterday, I was pondering the fact that our country turned 237 years old. The United States is the oldest westernized democracy in modern history. We are an enigma in many ways, but perhaps the most poignant thing that resonated with me was the fact that we are getting stronger with age. In our younger years, we were constantly challenged. Through history we have had to continue to fight and defend our position, proving time and time again that we were worthy of our status in the world pecking order.
Thirty six years ago, I conceived the idea of The Reeded Edge. We were going to be a coin dealer that catered to servicing local customers through trade shows one or two weekends per month. It didn't take long for me to figure out that with hard work and persistence, that there just might be a career potential with this business. But figuring something out and actually taking action are two different matters entirely. It took me another 12 years to make the commitment, and take The Reeded Edge into a full time venture. Since then, we too have had our challenges. But despite them (or perhaps, because of them), we have emerged stronger and better to become the company that you know today. To a great extent, the addition of Ray Hunt 12 years ago and Robbie Jenkins 7 years ago, have allowed for that growth. By taking us to the next step, from a technological and numismatic standpoint, we are now able to do things and service our customers in a way that we could not have done in our early years. Like our great nation, I would like to believe that we are on an upward path, solidifying our position in the numismatic arena.
July 4th made me realize that we as a nation have much to be thankful for, and we are lucky in so many ways. My business is no different. In fact, any organization is only as good as the sum total of its parts, and those parts are their people. I like to believe that I remind Ray and Robbie how important they are to our operation on a regular basis. You, our customers, comprise the other part of this group, and I want to take this opportunity to thank each and every one of you for your loyalty, support and patronage. Without you, we could not be where we are today, a fact I never forget or take lightly.
To all, a Happy Fourth of July holiday and thank you from the bottom of my heart!
Rob Lehmann
President,
The Reeded Edge, Inc.


The Reeded Edge/Salvation Army Toys for Kids 2nd Annual Toy Giveaway Launches our Christmas Season
December 17, 2012 - For the last two years, The Reeded Edge has hosted a toy drive in conjunction with our local branch of The Salvation Army. This year's event, was once again, hugely successful. In all, we were able to buy gifts for over 30 area children. The looks on the children's faces when they opened their presents from Santa said it all.
The holiday season is about giving. We are blessed to be in a business where we can make a good living doing something that we love. But we are only too aware that not everybody is in the same position. This year's event was a collective effort between our staff, our wives (who tirelessly shopped for and wrapped the gifts) and Melody Merrill of the Cumberland Salvation Army. This is something that we really enjoy doing, and we hope that circumstances will allow for us to do it once again in 2013.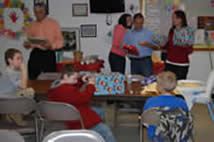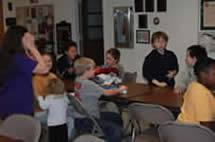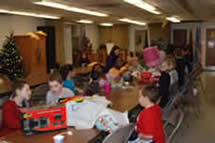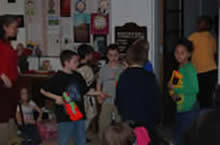 The Reeded Edge Purchases a Major European Vintage Diecast Toy Hoard
Hundreds of New Listings Found Throughout the Store
We are excited to announce the arrival of a hoard of early diecast toys, the likes of which we have not seen in several years. This is great news for collectors who have been starved by a dry spell in the diecast market. Featured will be many 1950's and 60's era boxed Corgi and Dinky, including many better and scarce models. As this arrival is coming right on the coattails of the A.N.A. World's Fair of Money, it may be several weeks before all items are listed, photographed and made available for sale. Please check back often, as we expect that these models will be making their debuts on an almost daily basis. Whether your collecting passion is commercials, passenger cars or military, it's all here and equally represented. In all, there are over 150 new models, some of which we are owning for the first time ever. Don't hesitate to call Rob Lehmann @ 301-724-0400 with any questions whatsoever.
Name Your Price! From The Reeded Edge
With the impending fiscal cliff on our minds, or at the very least, constantly in the news, it seems that value has become the word of the day. Whether you're a collector on a budget or an investor seeking opportunity, price seems to be the common denominator. Generally speaking, if the price is right, the item probably will sell. With that thought in mind, The Reeded Edge is introducing our new Name Your Price! program.

Name Your Price! allows you to make an offer for any item in inventory with a suggested retail price of $50.00 or more. If you like saving money, this opportunity is definitely for you. Put your best foot forward, because this is your chance to name your price on a wide variety of coins and collectibles.

Click HERE to open up our current coin and collectibles inventory list. Then, click on a listing to view a detailed item description along with corresponding images. If you like what you see, return to the master list and click on the Name Your Price! button to the right of the original listing. This will open up a email template where you can enter both your offer and your contact information. Once we receive your offer, a decision will be made within one business day, and in many instances, in just a few minutes. It really is that simple.

Every offer is seriously considered and weighed carefully. We evaluate many different factors including our original cost, what comparable items have recently sold for, frequency of the item's appearance, rarity, desirability and overall quality. We then carefully consider your offer against each of these areas and try to make a fair decision. Consequently, not all offers will be accepted. But, if your offer is close, we'll let you know, and in some instances, may come back with a counter-offer. We encourage you to take your shot and make an offer-You have absolutely nothing to lose!