The Reeded Edge Prepares to Head to Chicago and The ANA World's Fair of Money
International Show Promises to be one of the Best Ever


July 28, 2015 - It is that time of year again when all heads to turn to Rosemont, Illinois and The ANA World's Fair of Money. This is the quintessential coin show of the year, and one that we look forward to with great anticipation. Given the state of the summer coin market, that anxious optimism may be more true this year than ever. The Reeded Edge takes this show very seriously, as we start our preparations literally months in advance. We will be displaying our most diverse and complete inventory of coins and collectibles at our 6 table island (#730, 732, 631 and 629) which will comprise the better part of an entire bourse floor section. Rob and Robbie will be joined by our friend and close associate Miguel Lopez who will be providing needed assistance throughout the week. We will also be hosting several other famous numismatists that will be calling our tables home for the week. Hang around The Reeded Edge's tables during the ANA show, and you will encounter a virtual whos-who of numismatics there, as well. The festivities get under way on Saturday, August 8th with the unofficial ANA pre-show, The Professional Association of Numismatists, PNG/ANA Numismatic Trade Show. Although primarily a wholesale trade pre-cursor to the ANA, the public is invited to attend this event. All of the major rare coin firms in the United States are represented at the pre-show, and although the buzz factor present at the ANA show is not outwardly obvious, business does take place at a fast and furious pace. Large volume wholesale transactions generally occur at this show, as dealers try to position their inventories favorably for the week following. We expect equally great things from the pre-show, although the style and feel of the business will both be different from the ANA. Monday afternoon, August 10th gets things started for the main event as set-up occurs into the early evening. Then on Tuesday, August 11th, ribbon cutting takes place as the show officially gets under way, and the general public is admitted. The show runs throughout the week concluding at 4:00 PM on Saturday, August 15th. Just look for The Reeded Edge's famous BUYING, BUYING, BUYING sign plainly visible from all vantage points on the bourse floor. They will have thousands of new coins, currency, collectibles and general Americana with them as well as the balance of a world-class foreign collection. The guys will be aggressively buying all better collector coins, currency and collectibles. Whether you have one higher-value piece or an entire collection, The Reeded Edge wants to be your go-to coin dealer, and will pay accordingly. Please feel free to call Robbie Jenkins either in the office @ 301-724-0400 or on his cell @ 301-876-1332 to discuss any matters of business whatsoever. Over 2,000 dealers and 15,000 attendees are expected to pass through The Donald Stephens Convention Center throughout the week making this by-far the largest numismatic event of the year, and quite possibly, all time. Throw into the mix a healthy and resilient collector-dominated coin market, and we have the ingredients for a show of historical proportions. We at The Reeded Edge are really looking forward to next week, and we hope that each and every one of you reading this can join us for a week of numismatic nirvana.
Last weekend, The Reeded Edge attended a very active Annandale Coin Show. Even though this venue was held just a week after the popular Whitman Baltimore Coin Show, it was still extremely well attended. Both regional dealers and a robust collector contingent showed up in force. In all, The Reeded Edge conducted a healthy amount of two-way business both Saturday and Sunday. To continue to see shows remain this active throughout the historically slow summer months, is extremely encouraging. Factor in the negative forces such as sluggish metals markets and cash flow concerns amongst some of the country's larger coin dealers, and it all points to just how resilient this coin market has been. Perhaps the new Virginia sales tax exemption helped jump start the Annandale show, but we prefer to credit Paul Singleton and the crew at Potomac Productions for a job well done. Paul seems to have a grasp on the importance of bringing new blood into a coin show, and this was evident with the appearance of several new dealers and one older one that had taken a 20+ year hiatus from the coin show circuit. We enjoyed seeing both the new and old faces at Annandale, and in particular, thank every one of you that chose to make The Reeded Edge a trading partner. We bought and sold so many coins over the weekend that we actually were exhausted at the show's end, looking forward to this weekend's breather before departing for our Chicago numismatic marathon.
As we alluded to above, the summer is off to a good start. Business, although not always outwardly obvious, has been both consistent and steady. Sales have spanned coins and currency at all price points. Better date Morgans are still enjoying their day in the sun, both figuratively and literally. Key-date collector coins also seem to be experiencing a renaissance. As we have been noting for some time, better date dollars are still not coming out of the woodwork. If the market were to soften in this area, we would be seeing multiples of semi-key and key date dollars entering the marketplace, but this simply has not been the case. As a market maker in this segment of the numismatic market, this trend is concerning, especially from a buying standpoint. As a seller, this trend is both good and bad; the good being that demand hasn't waned and bad from the standpoint that there isn't more product in the marketplace for us to sell. It is easy to forget how popular this series is, a fact we are not losing sight of even during these historically slower summer months.
We continue to put more U.S. and foreign coins on our store on a daily basis. With the quantity of material still sitting in our vault, we don't anticipate that you will see any let-up anytime soon. Our newfound exposure to the foreign coin market has been an eye opening experience, and in a very positive way. Although we have heard that this market may have peaked several years ago, it is still on very strong footing. It amazes us just how many collectors state-side have gravitated to world coins. Of course, the usual contingent of European and Asian collectors still form the core of this sector. Please continue to visit our New Store Items to view our inventory of these world coins. Also, hundreds of world coins are exclusively listed on our eBay store, so please check there, as well.
The Reeded Edge remains serious about doing two-way business. Whether you're buying rare coins, selling rare coins, buying or selling gold or silver, or perhaps in the market for vintage toys or collectibles, few rare coin and collectibles firms have a greater presence in the marketplace than The Reeded Edge. Our open checkbook policy means that we want to buy anything from a valuable single item to an entire estate or collection. No deal is EVER too large, and we hate to say no. At The Reeded Edge, we really want to be your go-to rare coin dealer.
Please feel free to call our offices during normal business hours @ 301-724-0400, Robbie's cell after-hours @ 301-876-1332 or Rob's cell after-hours @ 240-422-0118 to discuss any matter of business or just tell us how we're doing. And of course, stay tuned for more great coins, along with further details of upcoming coin shows.
(Featured Coins & Currency Added to Inventory Within the Last 30 Days - as of July 28, 2015)
A FUN Experience
By Miguel Lopez
Although the weather in Florida was a little colder than in past years for this time, it provided a welcomed break from the freezing Maryland temperatures. The 60th edition of the Florida United Numismatist, Inc. (FUN) show turned out to be a steady, daily flow of business from the time the doors opened to the dealers at 8:30 AM until they closed their doors to the masses at 7:00 PM. Both, the wholesale and the retail side were active, especially the wholesale. Better date Morgan dollars continue to be in strong demand and thus enjoyed a short shelf life (or case life, in our world). Type coins, as well as the usual popular collector series remained strong with brisk activity. Proof type and generic, on the other hand, remain weak as do some of the traditional keys.
The show was well attended and enjoyed a diverse spectrum, from beginners to more sophisticated collectors, all looking to fill holes in their collections.
The auction chatter around the bourse floor had mixed feelings. Some dealers hinted at perhaps a recovery from recent weak auction results, as they were unsuccessful in obtaining lots at their bids. However, the overall consensus is the auctions remain under performing. Perhaps a strengthening economy will aid in the absorption of some of the available material.
Grading was tight at the early goings of the show, leaving some dealers disappointed. This situation improved as the show went on, but the overall perception was still below expectations.
I had the opportunity to work for The Reeded Edge during the show and learn from two of the best in the business, Rob Lehmann and Robbie Jenkins. It was a very successful show, especially under the current market conditions, as we witnessed a significant number of quality coins exchange hands both ways.

The Reeded Edge Launches our 4th Annual Toys for Kids Day with The Salvation Army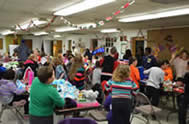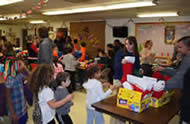 December 11, 2014 - This has been a successful year for our company. All of the hard work, both here in the office and on the road, paid dividends with record sales figures. But, it is sometimes easy to get caught up in these personal successes, and forget that there are many amongst us that are far less fortunate. The holidays provide us with the opportunity to give a little something back. The Reeded Edge, once again this year, teamed up with The Salvation Army to sponsor our annual Christmas toy drive. Today's event allowed us to play Santa, handing out wrapped toys to over 40 local grade-school children. The looks on their faces said it all! Perhaps, some of you reading this will be able to help somebody less fortunate this holiday season, as well; from our standpoint, there is no greater reward.


Merry Christmas and Happy New Year to all!
Stolen Coin From the Baltimore Coin Show
September 9, 2014 - The Reeded Edge had a 1927-S Buffalo Nickel, PCGS MS-64, #3962.64/30179690 stolen at July 8th's Whitman Baltimore Coin Show. The coin is a golden white with nice luster and relatively clean surfaces. Originally purchased out of the Heritage June Long Beach auction, this piece is well archived, complete with high resolution photographs. It has a few very distinctive markings, and would be easy to identify in or out of its original holder. A "no questions asked" reward is being offered for its return. Any help from our customers or fellow dealers in recovering this coin is greatly appreciated.


Chicago ANA Extremely Active - Record Number of Invoices Written Over a 10 Day Period

August 12, 2014 - We expected an active week of trading when we left for Chicago nearly two weeks ago. After all, this was The ANA's World's Fair of Money, or in coin show terms, The Big Kahuna. Both preparations and expectations were accelerated for this venue. It is not every show that our bourse area stretched over six tables and was staffed by four people. But then, the ANA was not every show.
From the moment we arrived in the Chicago suburb of Rosemont on Thursday, July 31st, it was evident that the mood of our fellow dealers was both optimistic and upbeat. The summer doldrums were gone as brisk trading ensued. Rob, Robbie and Miguel were slammed from the onset of the PNG pre-show straight through the last day of the main event. Were it not for the additional help of our friend and close associate Arnold Minimen, some of our customers would have gone unattended; It really was that busy! There was absolutely no rest for The Reeded Edge's guys; Between working up new purchases, processing orders, shipping coins and waiting on customers, 12+ hour days were the norm rather than the exception.
Needless to say, after 10 solid days of buying and selling rare coins and collectibles, our inventory has gone through a dramatic shift. Many coins that were featured on our web store, Collector's Corner and eBay were sold, replaced by a new and exciting crop of collector coins. In all, The Reeded Edge did nearly a million dollars of total business. Consequently, you can expect to see many new coins appearing on the store throughout this week.
As for Rob and Robbie, they are going to enjoy a well-needed break with the upcoming weekend spent on the home front. Then, it will be back to the road for a host of late-summer and fall shows. One of the many things that we will be addressing in the next week will be an updated show schedule, so stay tuned.
Finally, we would like to extend a great big thank you to all of our customers and fellow dealers that made this 2014 ANA venue such a success. We were humbled by all of the support and kind words that we received throughout the week. Although this aspect can not be measured in shear numbers, it nonetheless keeps us going and it's what makes this business so worthwhile.
Approval Service Available to Reeded Edge Customers


April 7, 2014 - As you peruse our webstore, you may notice ON HOLD next to the listing of a particular coin. This, amongst other things, could indicate that the coin is out ON APPROVAL to one of our customers. This allows the customer to examine the coin before making payment. For our well established clients, approvals are a preferred way of conducting business. For those not familiar with an approval service, here is how it works: The first step is to build a business relationship with us or any other recognized rare coin firm. If your previous business is with other firms, we ask you to provide three different credit references of dealers that have extended you credit in the immediate past. If your business is in-house, we will evaluate the nature, frequency and dollar amount of your business, and make a credit decision accordingly. Once established, you may use this privilege indefinitely. This gives you the ability to get the coin in-hand, examine it in the privacy of your own home and/or office for 24 hours, and then make your buying decision. This is a great option, and one that MANY of our regular customers take advantage of. Please also note, our approval service is not just for coins. It extends to any item on the webstore with a retail value of $1000.00 or more, including currency, vintage toys, political items, documents & autographs, exonumia and stamps. Please call our offices @ 301-724-0400, Rob on his cell @ 240-422-0118 or Robbie on his cell @ 301-876-1332 to discuss this service further.
Selling your Coins Online
Selling coins online has been a hot topic lately. There are many coin dealers in cyberspace, various regional phone books, and perhaps even in your home town. So, who do you choose when you have rare coins for sale? This is a complex question with no easy answer, but there are some rules that you absolutely should employ when making this important decision. Perhaps most importantly, who is your prospective dealer and what is his/her credentials? Trade associations, full transparency and strong financial references are all important criteria when making this decision. Look for membership in organizations like the American Numismatic Association (ANA) and the Industry Council for Tangible Assets (ICTA) to name two of the more important trade groups. Everybody who is anybody in the coin business (or any other business for that matter) has a strong web presence in today's day and age. Look for a well developed webstore with an extensive inventory and longevity. All are very important indicators of financial strength and stability. Go to the store's About Me page, and look for additional information on the company and their principals. If this information is hidden or cryptic, you have to ask yourself why. Finally arm yourself with resources. Although there is a LOT of great information online, getting it in a consolidated and concise, usable format can prove very challenging. Here is where a couple of great, time-tested books can be invaluable to you. The Guide Book of United States Coins, or Redbook has been the hobby's standard retail pricing guide since 1947. It is used today as much as ever by collectors around the world. But perhaps your most important single aid in helping you sell your coins for true wholesale prices is The Handbook of United States Coins or Bluebook. Neither of these publications will appear free on a Google search, although both offer online versions for sale.
Whether you are selling gold, silver, rare coins or any other collectible online, you owe it to yourself to do your due diligence. Rare coin dealers are not all the same. Applying some fundamental rules and good common sense to your selling decision can make the experience both pleasant and profitable. Why would you want it any other way?


Longevity


July 5th, 2014 - Yesterday, I was pondering the fact that our country turned 238 years old. The United States is the oldest westernized democracy in modern history. We are an enigma in many ways, but perhaps the most poignant thing that resonated with me was the fact that we are getting stronger with age. In our younger years, we were constantly challenged. Through history we have had to continue to fight and defend our position, proving time and time again that we were worthy of our status in the world pecking order.
Thirty seven years ago, I conceived the idea of The Reeded Edge. We were going to be a coin dealer that catered to servicing local customers through trade shows one or two weekends per month. It didn't take long for me to figure out that with hard work and persistence, that there just might be a career potential with this business. But figuring something out and actually taking action are two different matters entirely. It took me another twelve years to make the commitment, and take The Reeded Edge into a full time venture. Since then, we too have had our challenges. But despite them (or perhaps, because of them), we have emerged stronger and better to become the company that you know today. To a great extent, the addition of Ray Hunt 15 years ago and Robbie Jenkins 8 years ago, have allowed for that growth. By taking us to the next step, from a technological and numismatic standpoint, we are now able to do things and service our customers in a way that we could not have done in our early years. Like our great nation, I would like to believe that we are on an upward path, solidifying our position in the numismatic arena.
July 4th made me realize that we as a nation have much to be thankful for, and we are lucky in so many ways. My business is no different. In fact, any organization is only as good as the sum total of its parts, and those parts are their people. I like to believe that I remind Ray and Robbie how important they are to our operation on a regular basis. You, our customers, comprise the other part of this group, and I want to take this opportunity to thank each and every one of you for your loyalty, support and patronage. Without you, we could not be where we are today, a fact I never forget or take lightly.
To all, a Happy Fourth of July holiday and thank you from the bottom of my heart!
Rob Lehmann
President,
The Reeded Edge, Inc.