Busy Thanksgiving Weekend Launches 2019 Holiday Season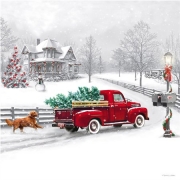 The holiday is now officially underway. Retailers worldwide participated in Black Friday and Cyber Monday promotions, trying to lure customers to their respective businesses. The Reeded Edge was no exception. Historically, we use this busy weekend to launch promotions, establish new customer relationships and clear out some older inventory. Apparently, our efforts paid off. Monday was one of our busiest shipping days of the year, with almost one hundred parcels finding their way to new owners around the country. For those of you familiar with our annual holiday sale, this is probably old news. Our focus was on number of coins out the door rather than just profit margin. At the end of the day, there were plenty of losers, primarily coins that had been in inventory for an extended time. As we have said repeatedly throughout the year, many coins have declined in value. Not surprisingly, these also tend to be the coins that languish in dealers' inventories. Although no business likes to lose money, it is a byproduct of maintaining an inventory. Now, it is on to the new as we put some of this money back to work restocking the shelves. Rest assured, there are plenty of deals in the works, with many new coins on the immediate horizon. Stay tuned.
Next week, we will close out our 2019 coin show schedule with The Annandale Coin Show in Annandale, VA (just south of Washington D.C.). Both Rob and Robbie will be on hand for The Reeded Edge. They will have hundreds of newer coins with them, spanning collector coins from a couple hundred dollars and less to five figure rarities. Diversity is always the name of the game with our firm, as we cater to collectors at every level. Annandale also marks our final BUYING push of the year, so please offer any fresh, numismatic items to the guys. They will be aggressive, with The Reeded Edge's open checkbook policy in full effect. Just look for the giant BUYING, BUYING, BUYING sign immediately inside the front entrance of the bourse hall, and one of the guys should be close behind. Washington is one of the most beautiful cities in the world, especially so during the holidays when it's fully decorated. Perhaps, consider an extended weekend in the D.C. area, taking in this active local coin show along the way.
We hope that everybody had a Happy Thanksgiving; we want to extend a special thank you for your business and patronage throughout 2019. Both mean a lot to us. Finally, we would be humbled and honored to continue serving you throughout the holiday season. May each of your holidays be filled with joy, health and peace.
https://www.reedededge.com/wp-content/uploads/2017/09/banner.png
0
0
ReededEdge
https://www.reedededge.com/wp-content/uploads/2017/09/banner.png
ReededEdge
2019-12-03 12:21:07
2019-12-03 12:21:07
Busy Thanksgiving Weekend Launches 2019 Holiday Season