Happy Holidays from The Reeded Edge-Closing Out Year with The Annandale Coin Show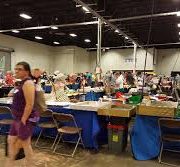 It's hard to believe that we are in the midst of yet another holiday season. Where did the year go?
In retrospect, the coin market has been a real wildcard. Certain areas, such as eye appealing collector coins have remained strong and seemed in short supply throughout the year. Other areas, like generic Walkers, Dollars and Gold, have been soft, with supplies exceeding demand. The trick has been trying to acquire the coins that are on everybody's want list, while discounting the others and thereby staying a step ahead of this declining sector of the market. This was not a year to hold coins, and perhaps more than ever in company history, we committed ourselves to turning inventory quickly and efficiently. Despite the obvious challenges, we feel like this year was mission accomplished, and from our perspective, an overall success.
The Reeded Edge will be closing out our 2018 coin show schedule this coming Saturday and Sunday with The Annandale Coin Show. Always a holiday favorite, this show is usually well supported by a strong Northern Virginia collector contingent, and we see no reason that this year should be any exception. Both Rob and Robbie will be in attendance at their multi-table location in the front of the bourse hall. This Fall has been anything but dormant, and consequently, The Reeded Edge will have hundreds of new certified coins available for sale. While most rare coin firms are trying to reduce inventory at year-end, we are more of an anomaly than the rule. Along those lines, the guys will once again have their open checkbook policy in full effect, so please offer them any fresh and worthwhile numismatic properties that you have for sale. Their giant BUYING, BUYING, BUYING sign will serve as a reminder to this, and should be visible from all vantage points in the room. Hopefully Northern Virginia, and the greater DC area are in your plans for this upcoming weekend, as we would love to see you the show.
In closing, we want to wish a Happy Hanukkah to all of our Jewish friends. We hope that this holiday brings you peace, prosperity and happiness.
https://www.reedededge.com/wp-content/uploads/2017/09/banner.png
0
0
ReededEdge
https://www.reedededge.com/wp-content/uploads/2017/09/banner.png
ReededEdge
2018-12-03 09:40:40
2018-12-03 09:49:06
Happy Holidays from The Reeded Edge-Closing Out Year with The Annandale Coin Show