The Reeded Edge Moves Our Offices & Prepares for Annandale Coin Show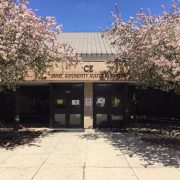 This has been a busy two weeks for us, as we have moved into a new larger office suite. None of our contact information has changed; we are still at the same physical address, albeit with MUCH more space. The whole staff is excited about our new "digs". If for any reason you felt our service was compromised over the last 2 weeks, the move was probably a contributing factor. Please accept our apologies, and rest assured a sense of normalcy is just around the corner.
This coming weekend, Rob and Robbie will be heading to Northern Virginia for the always-popular Annandale Coin Show. This is one of our favorite local venues, as we have so many friends and associates in this region. With several major new certified coin deals in tow, we should have something at Annandale for just about every collecting taste and budget. Of course, the guys will be aggressively buying, as well. Just look for their famous BUYING BUYING, BUYING wall sign by the front entrance. If you have one interesting coin or an entire collection for sale, Rob and Robbie would love to be your go-to guys. Hopefully, the D.C. metropolitan area will be in your plans this weekend. If so, please consider stopping by The Northern Virginia Community College and taking in this great regional coin show.
https://www.reedededge.com/wp-content/uploads/2017/09/banner.png
0
0
ReededEdge
https://www.reedededge.com/wp-content/uploads/2017/09/banner.png
ReededEdge
2018-07-16 16:21:01
2018-07-16 16:33:18
The Reeded Edge Moves Our Offices & Prepares for Annandale Coin Show