What's in store for 2021? A Healthy Coin Market We Hope!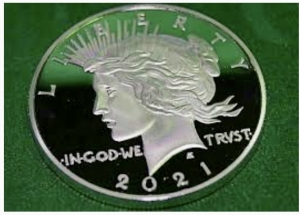 This last year has been one for the books. The question now becomes does 2021 pick up where 2020 left off? The answer, we believe, is yes and no.
The pandemic is still playing a role in our daily lives, and probably will continue to do so into the summer of this year. That will translate to more coin shows being cancelled and/or rescheduled. The foot traffic in coin shops will also be lighter, until everyone becomes comfortable with getting out and about again. The coin shortage will also remain a challenge. Supply lines are dependent on networking, and with rare coins that means in-person transactions. Though online sellers have attempted to fill some of this void, most dealers would agree that numismatic collector coins still remain short in supply. From these standpoints, the first part of 2021 sounds a lot like 2020.
We are also anticipating a lot of changes in 2021, a year that we think will represent a transition. As vaccines become more available, COVID and its impact should disappear. We expect to see coin shows again towards the middle/latter part of the year. We also expect the shops will be firing on all cylinders once the retail public returns. With a staggering deficit fueled by government stimulus packages, the dollar should remain tenuous. That bodes well for gold and silver. How will less time at home impact the hobby? We know time was something collectors had plenty of in 2020. But with quarantines, stay at home orders and restrictions lifted, will they still find equal time to pursue their numismatic endeavors? We're not 100% sure on this one. We do however realize, once a collector, always a collector. In short, we're not expecting any attrition in the hobby. The 3+ years prior to COVID were good for many of us financially, both from a personal and business standpoint. How the incoming administration impacts our pocketbooks for the next four, is anybody's guess. In the absence of any excessive new taxes, and with the hope that COVID is permanently neutralized, prosperity should return. Collectors have proven that they will not let a virus deter them; our guess is that no other distraction will either.
We often hear the question, what will be hot this year? Although we hate the role of prognosticator, we firmly believe some overlooked small type series, such as 2 Cent Pieces, 3 Cent Pieces (both nickel and silver), and Half Dimes are all due for a resurrection. We see continued strength with 20th century collector series such as Buffalo Nickels, Mercury Dimes, Standing Liberty Quarters and Walking Liberty Halves. The much-anticipated 100th anniversary of the final year of Morgan Dollar and first year of Peace Dollar should spur interest in both series. We see silver dollars potentially taking the numismatic center stage. We also are projecting a solid year for metals which could bode really well for larger format gold coins. We have noticed quite a resurgence of interest in the $10 Indian series, and we expect that trend to continue. Augustus St. Gaudens-designed coins remain extremely popular, as well as breathtakingly beautiful. Expect to see $20 Saints go through a bit of a renaissance, although we would argue they never really lost their popularity. We also have been receiving a lot of want lists for local currency, both obsolete broken bank notes and national bank notes. Since both of these areas are purely collector supported, it is another sign of a strong collector foundation throughout the numismatic spectrum. The craziness and mayhem of 2020 was unprecedented. Throughout it all, the collector has remained the one constant. We don't believe that should change one bit in the hopefully more-sane 2021.
We have no shortage of optimism going into this year. With last year in the rearview mirror, we can now all look forward to better days. Amazingly, the coin hobby weathered the storm throughout 2020. With fewer distractions on the horizon, this year could really mark a turning point. We wish you and yours a healthy, happy and prosperous new year, and look forward to serving you in these upcoming days.
Rob, Robbie, Ray, Tammy and Sharon
The Reeded Edge, Inc.
https://www.reedededge.com/wp-content/uploads/2017/09/banner.png
0
0
Rob Lehmann
https://www.reedededge.com/wp-content/uploads/2017/09/banner.png
Rob Lehmann
2021-01-06 15:25:33
2021-01-06 15:42:57
What's in store for 2021? A Healthy Coin Market We Hope!