Happy Thanksgiving from The Reeded Edge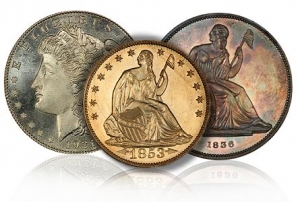 Obviously, this year has been like no other. With all of the craziness and disruptions looming large, It would be silly to think that our holidays would be unaffected. Statistically, people will travel less this year. Family gatherings will be smaller, and in some cases, nonexistent. There is no doubt that circumstances this year will pose physical limitations on how we approach and celebrate the holidays. But, we are greater than just physical creatures; we have strong emotional and spiritual bonds, and a sense of family that can not be stolen by a pandemic. So yes, although we will celebrate our holiday differently this year, we will nonetheless celebrate. The Reeded Edge wants to extend our warmest wishes to you and yours for a Happy Thanksgiving, as well as peace and joy for the upcoming Christmas and Chanukah holidays.
The coin market seems to be building on its strength as collectors hunker down for what could be a long winter. The demand for mainstream collector coins has definitely spiked in the last couple of weeks, as show closures are creating newfound demand on the numismatic supply chain. Although we had been holding out hope that coin shows would be resuming in force by the first of the year, that timeline now seems optimistic. Perhaps the middle or end of spring would be a more realistic target. Coin shows play a very important role in supplying dealers across the country with product to sell their collector base, and without them, we expect to see the demand for coins intensify. Despite the continued underlying strength in our marketplace, rare coin prices for the most part have remained flat, but that aspect may be about to change. Any surge in the precious metals markets could definitely provide the catalyst for rising coin prices, although that may not prove to be a necessary component. A flat-out shortage of coins in the marketplace could be the impetus for rising prices, without other contributing factors. We could be in for an interesting winter in the numismatic arena-we shall see.
The Reeded Edge continues to stock our shelves at every available opportunity. Our most recent acquisitions include a couple of high-grade, better date dollar groups, a local collection comprised of over 1000 PCGS-certified collector coins, and a smaller collection of dated gold. Other deals are on the horizon, each of which we will pursue aggressively. We are not ones to rest on our laurels, and the present time is no exception. We realize with circumstances getting more challenging again, it's time to roll up our sleeves and get to work. Fortunately, we have been down this road once before, so we not only have a feel of what to expect, but a roadmap of how to navigate through it. The Reeded Edge will continue to offer you a steady diet of great collector coins throughout the upcoming months, irrespective of circumstances.
Finally, what would Thanksgiving be without a mention of Black Friday? The Reeded Edge will be conducting our annual Black Friday Sale, and this year's event promises to be bigger than ever. Robbie Jenkins has been working tirelessly through hundreds of new coins, preparing their inaugural launch for Friday morning. In tandem, we will be marking down many other coins and collectibles to their lowest prices ever. We are not going to give too much away just yet, but stay tuned. This promises to be a numismatic sale of epic proportion!
https://www.reedededge.com/wp-content/uploads/2017/09/banner.png
0
0
Rob Lehmann
https://www.reedededge.com/wp-content/uploads/2017/09/banner.png
Rob Lehmann
2020-11-25 10:02:58
2020-11-25 10:11:29
Happy Thanksgiving from The Reeded Edge