The Reeded Edge Heads to Gettysburg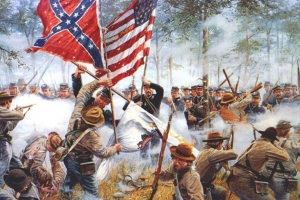 We were wondering if we would be saying this again, but we are back in full-swing show mode. Last week's Ohio State Coin Show in Dublin, Ohio was a barn-burner. It was quite possibly our best Dublin Show ever. Who would have predicted coming after a five month hiatus? Not us! There is an old saying, "Make hay when the sun shines." Bolstered by strong precious metals market, the coin market remains healthy and active. Even without the aid of a summer ANA show, we still registered one of our best summers in recent history. Talking to other dealers around the country, we are hearing many similar accounts. We are lucky people who happen to be in the right business at the right time. Again, who would have known that a world pandemic could have created the perfect storm for the coin business?
This week, Rob and Robbie will be heading to Gettysburg, PA for The Battlefield Coin Show. This is a rescheduled venue, and one that the guys have been looking forward to. Located at its regular location in the ballroom next to The Eisenhower Hotel, The Reeded Edge will be at their usual table, located inside the front door to the immediate right. Just look for the giant BUYING, BUYING, BUYING sign, and the guys should not be far behind. Please stop by and see the guys, as they have hundreds and hundreds of new coins in stock, courtesy of two very successful prior shows. This is a departure from most of the summer where The Reeded Edge was struggling to keep the shelves full. Hopefully, those days are behind us, as the world begins to reopen again, and get back to some sense of normalcy. Perhaps Gettysburg is in your plans this weekend? It's a beautiful city, rich in history, that just happens to be hosting a great coin show. We would love nothing more than to see you there.
https://www.reedededge.com/wp-content/uploads/2017/09/banner.png
0
0
Rob Lehmann
https://www.reedededge.com/wp-content/uploads/2017/09/banner.png
Rob Lehmann
2020-09-10 09:59:01
2020-09-10 09:59:01
The Reeded Edge Heads to Gettysburg