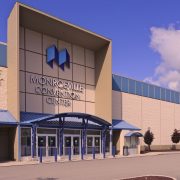 Well, it's that time again. Rob and Robbie will be taking their 2 hour car trip to Pittsburgh for the always-popular, bi-annual P.A.N. Coin Show. We love this show for two reasons. First and foremost, this is a great show with a rich history that is always well attended by both collectors and dealers. It is also one of the few shows that we can drive to in  only a few hours.  Trading begins on Wednesday, May 9th with dealer set-up. The public is admitted on Thursday, and that is when the real fun begins. We use the term wildcard from time to time, but in the case of this venue, it's really applicable. You just never know what is going to come in the door at P.A.N. Sometimes, it is a collection to buy, and other times it could be an aggressive collector with a high-powered want list and money to spend. In Rob and Robbie's estimation, it is the anticipation that makes this show both interesting and fun. The guys will have quite a few new coins in tow, with over 100 fresh new coins back from PCGS grading this week. This is also the first venue that will showcase The Reeded Edge's new purchases from Central States. If the Pittsburgh area is in your plans for this coming weekend, please make a point of stopping by The Monroeville Convention Center, and specifically table #307; the guys would love to see you at the show, and perhaps, even do some business.
https://www.reedededge.com/wp-content/uploads/2017/09/banner.png
0
0
ReededEdge
https://www.reedededge.com/wp-content/uploads/2017/09/banner.png
ReededEdge
2018-05-07 13:42:06
2018-05-07 13:42:06
The Reeded Edge Heads to Monroeville for P.A.N.