The Reeded Edge Heads to Orlando for Summer FUN – Happy Birthday USA!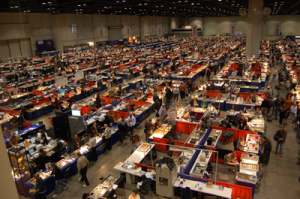 It is amazing how time flies. Just yesterday, we were talking about warming temperatures and the corresponding (and predictable) summer slow-down in the coin market. We were right for 50% of our prognostication. Although many coin traders who make their living selling exclusively to other re-sellers have reported a decrease in sales, we are not noticing any weakening of the collector contingent. We are firm believers that at the end of the day, this is the most important component for both the health of the coin market as well as the overall hobby.
We do want to take pause and wish everybody a happy fourth of July, and also hope that each of you contemplate what it means to live in the United States; please also take a moment to give thanks to those that have sacrificed so that you can enjoy the freedoms that many of us take for granted. Just to be able to enjoy a hobby like coin collecting and afford coins to further your collection is a privilege that many in this world will never know. Not to get overly philosophical, but at least give these factors a thought, because at the end of the day, we all VERY fortunate.
Speaking of, plenty of good fortune has come The Reeded Edge's way lately. Coming on the heels of the major purchase of an east coast dealer's inventory, we just finalized another significant acquisition. This one was also top-heavy in collector coins, so it was an excellent fit for our firm. Both of these deals featured quite a bit of raw material, some of which is being certified, but much of it is also being sold as-is. Please keep an eye out on our trecoins eBay account, which is now our exclusive marketplace for raw coins. We have over 400 coins currently out for certification, so expect a deluge of new PCGS and NGC material in the very near future. Next week, Rob Lehmann will be headed south to Orlando, Florida next week to attend The Summer FUN Convention located at The Orange County Convention Center on International Drive. Rob will have a myriad of new certified coins in tow, so be sure to stop by The Reeded Edge's booth #725 and say hello.  Despite both the quantity and velocity of our new purchases, Rob will still be eager to buy any fresh, high-quality material. We urge you to stop by and show him anything that you are contemplating selling. Maintaining The Reeded Edge's philosophy of there never is a slow season for buying coins, Rob will have the checkbook out and ready.
We hope numismatics will play an important role in everybody's summer. After all sunshine and heat can both be really overrated!
https://www.reedededge.com/wp-content/uploads/2017/09/banner.png
0
0
Rob Lehmann
https://www.reedededge.com/wp-content/uploads/2017/09/banner.png
Rob Lehmann
2019-07-03 16:42:17
2019-07-03 16:51:01
The Reeded Edge Heads to Orlando for Summer FUN – Happy Birthday USA!