The Reeded Edge Heads to P.A.N. with Hundreds of New Purchases in Tow; eBay Discount for ALL Web-store Customers!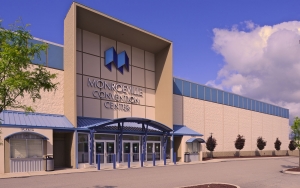 Another week, another coin show; that seems to be The Reeded Edge's mantra  of late. Truth be known, this is not just another coin show, but rather P.A.N. (Pennsylvania Association of Numismatists), Pennsylvania's largest numismatic event, and one that is thankfully a mere hour and forty five minute drive from Cumberland. This Monroeville-based show (an eastern Pittsburgh suburb) is a collector favorite, and tends to draw crowds from neighboring states such as New York, New Jersey, Maryland, West Virginia, Ohio and Michigan. There is always a predictable contingent of trading partners, but it is the X factor that keeps this show interesting. You have heard us comment, on more than a few occasions, that you just never know what is going to happen or who is going to walk into a particular coin show….Nowhere is this more true than P.A.N. We have had some tremendous buys at this show, and conversely, some impressive sales. Given the healthy state of the coin market, we are guessing that this should be both an active and productive four days. Both Rob and Robbie will representing The Reeded Edge at The Monroeville Convention Center, beginning on Wednesday for dealer set-up, and concluding on Saturday afternoon. Just look for The Reeded Edge's giant BUYING, BUYING, BUYING sign, which should be plainly visible from all vantage points of the bourse floor. True to our sign's message, the guys will have their usual open checkbook policy in full effect. Our benchmark for a successful show is usually predicated on what we buy. Please, if you have a single important rare coin, or an entire collection, Rob and Robbie would love a first shot. The term aggressive gets a bit overused, but honestly, we have NEVER met a nice coin that we didn't like! We would be remiss if we didn't mention the sales tax exemption on gold and silver bullion in Pennsylvania-yet another reason to spend some time in the Pittsburgh area to take in a coin show this week.
Speaking of sales tax, The U.S. Supreme Court's Wayfair decision has had some far-reaching implications, especially for internet seller's trying to get a handle on its exact application. Nowhere has this been more evident to the numismatic community than on eBay. The online behemoth seems to be scrambling like a rat in a maze trying to figure who is and isn't liable for paying the various states' sales taxes. Their answer? Tax any and all states until they hear otherwise. This has been troubling for 36 states with numismatic sales tax exemptions, like Delaware and Maryland. As an eBay merchant with a significant online presence, we can tell you firsthand that this is creating a selling hurdle. Combined with eBay's unconditional 30 day return privilege (which is just ripe for abuse), this once safe trading venue is getting more challenging by the day for buyers and sellers alike. Like many other coin dealers across the country, we are actively exploring alternative markets to eBay. There will be an emerging platform, but at this point we are hard pressed to say who or what that will be. We firmly believe that necessity breeds innovation. Unless eBay makes a commitment to become more consumer friendly in the very near future, they could become a tech giant dinosaur. I guess only time will tell!
THE REEDED EDGE IS NOW DISCOUNTING ALL COINS ON OUR WEBSTORE 5% TO ANY ESTABLISHED EBAY CUSTOMER & WITHOUT THE PESKY SALES TAX. JUST IDENTIFY YOURSELF AS A PREVIOUS EBAY CUSTOMER, AND THE DOUBLE-DISCOUNT WILL INSTANTANEOUSLY BE APPLIED!
https://www.reedededge.com/wp-content/uploads/2017/09/banner.png
0
0
Rob Lehmann
https://www.reedededge.com/wp-content/uploads/2017/09/banner.png
Rob Lehmann
2019-10-14 18:05:38
2019-10-15 10:26:14
The Reeded Edge Heads to P.A.N. with Hundreds of New Purchases in Tow; eBay Discount for ALL Web-store Customers!