Dalton Goes Off Without a Hitch – Next up, The Ohio State Coin Show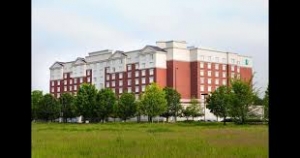 The Blue Ridge Numismatic Association's Dalton Coin Show went off without a hitch, which was the best possible scenario for everybody concerned. Grant Campbell and the BRNA worked tirelessly to insure that this venue met or exceeded all local COVID protocols, while not compromising the integrity or quality of the show.  It was a balancing act, but at the end of the day, it was mission accomplished. "The Karens, worry-warts and tire-kickers took a pass on this one", commented Rob. Those who did make the trip to Dalton were both aggressive and serious. From the guys standpoints, they would much rather have a partially filled room of checkbooks, than a crowded hall of bodies. Although in Rob's estimation, the tables were probably 70% or less occupied, and the public crowd was very light, the numbers still exceeded expectations. Let's face it-this show was a real wildcard. This was the largest venue to take place since the Atlanta ANA in March, and one that was being watched closely. It was rumored that both the Board of Health and a local television station would be visiting the convention center, though neither was ever sighted. If the purpose was to find an infraction, the BRNA gave them nothing to talk about. One look in the room and it became quite obvious that the risk narrative was a non-starter. Daily temperature checks were required before providing admittance to any person behind a booth. Large quart jars of hand sanitizer were donated by a local distillery and could be found on every table throughout the room. Upcoming coin shows like Whitman Baltimore, FUN and even ANA were all observing Dalton. Hopefully, it laid the foundation for these other large venues to move forward safely and productively. Despite chatter to the contrary, Dalton proved that one does not have to be sacrificed to achieve the other.
Rob and Robbie started their pilgrimage to Dalton on Wednesday, visiting coin shops throughout the south. They were both encouraged by how busy the shops appeared. Bullion has provided their business foundation with a variety of numismatic items also coming in. In all, the stops proved fruitful with some large checks written, and many new interesting items for inventory procured. Business continued on Thursday right where it left off the day before. The guys described Dalton's dealer day as frenzied and fast paced, with few opportunities to break away from their booth. Friday was the first day that the show was open to the public, and it was expectedly quiet. Saturday however switched gears, as the crowd was larger and spent money more willingly. Although in Dalton terms, the attendance was less than usual (this is typically one of the busiest coin shows in the country), given the adverse circumstances, we still scored it a 10. Two plus double-row boxes of new certified coins were the net result with six figures of numismatic business conducted, not bad numbers for an inaugural show coming on the heels of a global pandemic. We have been saying for some time that the coin market has remained very healthy throughout this challenging period, and Dalton did nothing to dispel that notion.
Next up for The Reeded Edge is The Ohio State Coin Show in Dublin, Ohio. Sponsored by The Central Ohio Numismatic Association (CONA), this show commences on Thursday, September 3rd and concludes Saturday afternoon. This annual Labor Day weekend coin show has been a proven winner for us, and we see no reason that this year will be any different. CONA members wearing conspicuous green derbies are always on hand to provide support to both the dealers and attendees. We have been assured that CONA will closely adhere to all local COVID protocols. Knowing the dedication of this organization, we are quite confident that they will take all measures to insure everybody's safety. In the past, this show has competed with the kickoff of college football and Ohio State's home opener. Anybody familiar with the Columbus area, knows that the city and surrounding areas come to a virtual standstill for Buckeye football. But with the Big 10 cancelling all fall sports, that factor will not come into play this year. Equally important, the show has moved out of The Crowne Plaza to an improved facility at a neighboring Embassy Suites. Combining these factors with the numismatic community's hunger for the resumption of coin shows, we are anticipating good things. Both Rob and Robbie will be on-hand for The Reeded Edge, located at booths 405, 406 & 407 to the immediate right of the main hall's entrance. Just look for the giant BUYING, BUYING, BUYING sign, plainly visible from all vantage points in the room, and the guys should not be far behind. They will have hundreds of new certified coins in tow, as well as a host of other numismatic goodies. The Reeded Edge will also be aggressively buying all worthwhile numismatic coins, so please consider offering the guys any items of interest. If Columbus is in your plans for Labor Day weekend, please make a point of stopping by The Dublin Embassy Suites and supporting this wonderful venue. Both Rob and Robbie would both love to see you at the show!
https://www.reedededge.com/wp-content/uploads/2017/09/banner.png
0
0
Rob Lehmann
https://www.reedededge.com/wp-content/uploads/2017/09/banner.png
Rob Lehmann
2020-08-25 10:20:46
2020-08-25 10:49:28
Dalton Goes Off Without a Hitch – Next up, The Ohio State Coin Show